Ferenchak honored with UNM Ovation Award
October 10, 2023 - by Kim Delker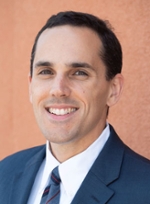 Nicholas Ferenchak, an assistant professor in the Gerald May Department of Civil, Construction and Environmental Engineering, is the recipient of the 2023 Ovation Award, presented by the Office of the Vice President for Research at UNM.
The Ovation Awards recognize full-time faculty for recent cutting-edge research accomplishments that address local or global challenges while elevating the University's reputation on a national and international stage.
Ferenchak received the award for his efforts that led to the establishment of the Center for Pedestrian and Bicyclist Safety (CPBS), a Tier-1 University Transportation Center (UTC) funded by the U.S. Department of Transportation over five years. CPBS's goal is to eliminate pedestrian and bicyclist fatalities and serious injuries. The center pursues this goal through research, education, technology transfer and workforce development.
Ferenchak leads the center, working with partner universities San Diego State University, University of California Berkeley, University of Tennessee at Knoxville, and University of Wisconsin at Milwaukee and supported by researchers across engineering, planning, public health, geography, public affairs and other industries.
Ovation winners receive $1,000, which is distributed into their research account.