Diversity and Support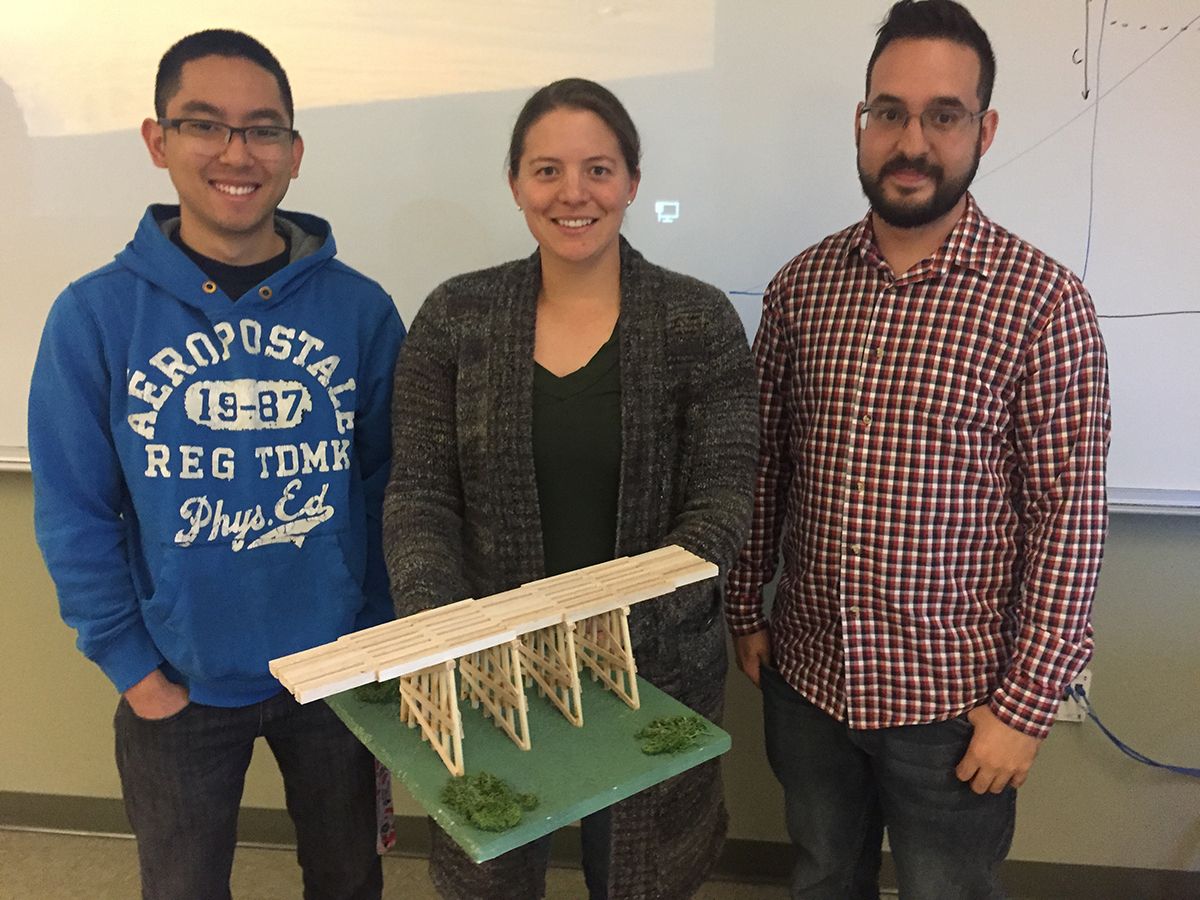 Our department prides itself on fostering a multicultural environment that enriches every program we offer. Students develop a breadth of concepts and thinking from cultural diversity and it is our responsibility as a department to cultivate a community in which all students, faculty, and staff are welcome, respected, and recognized for their unique contributions. Our students come from all reaches of the globe and bring with them unique experiences and backgrounds that truly strengthen the CCEE Department.
As a department, and within the entire university, diversity is a priority. For 2018 the Hispanic Association of Colleges and Universities has ranked UNM #16 in the list of Best Colleges for Hispanic, Latino/a, and Chicano/a students. Schools were ranked on academics as well as the percentage of Hispanic students currently enrolled, in- and out-of-statetuitions, cultural center, and degree programs or scholarships dedicated to enhancing the experience of Hispanic students.
We strive to provide the highest quality of education, research experience, financial support, and services for Hispanic students and students of all backgrounds. Considering the importance of engineers with advanced degrees in solving our nation's challenges, we want to make sure that all of our students, especially those from underrepresented groups, have these opportunities.
Award-winning Diversity Efforts
In the 2021 Quacquarelli Symonds (QS) Top University rankings, which examines how well universities drive diversity while enhancing employability, The University of New Mexico placed at number 74 on its list of more than 350 institutions. This is a jump of more than 75 positions from last year, and UNM stands as the only university in the state ranked in the Top 100. Our ranking truly reflects our commitment to reducing gender and racial inequities and fostering greater equity and diversity across the entire Lobo community.
The University of New Mexico School of Engineering received a Bronze Award from the American Society of Engineering Education (ASEE) in the inaugural Diversity Recognition Program.
UNM Engineering is one of 82 engineering programs around the country — and the only one in New Mexico — to receive the designation, which recognizes institutions for outstanding efforts to attract and retain diverse populations into engineering.
Diverse Students
School of Engineering students represent varied cultural, academic, and ethnic backgrounds. Many are the first in their families to pursue a college education. They range from traditional students to employed professionals returning to complete their education. And they come from various locations, pueblos and rural areas in New Mexico, small and large cities throughout the US, and other countries.
The SOE student body reflects New Mexico's multicultural population and strong Hispanic heritage. In the undergraduate student population, these cultures are represented: American Indian/Alaskan (12%), Hispanic (31%), Asian American (7%), African American (1%), Caucasian (48%), and other (1%)
Among graduate students, these cultures are represented: Hispanic (6%), Asian American (16%), American Indian/Alaskan (5%), African American (1%), Caucasian (46%), and other (26%).
Diverse Student Organizations
Faculty and staff encourage SOE students to join student organizations and their national affiliates. Some of the student organizations available to students are: American Indian Science and Engineering Society (AISES), Hispanic Engineering and Science Organization (HESO), National Society of Black Engineers (NSBE), Engineers Without Borders (EWB), and Society of Women Engineers (SWE).
Diverse Career Opportunities
Through career fairs organized by the Office of Career Services and Engineering Student Success Center, to the professional contacts made via participation in student activities and in research projects and with faculty mentorship, our students have multiple choices when it comes to finding and landing a coveted engineering position after graduation.
The combination of diverse students, interdisciplinary programs, and the focus on integrating teaching, research, and practice makes UNM SOE a great place to recruit students. "Our students are ethnically diverse and study in a multicultural environment so they know how to communicate and work with other types of engineers," explains the Director of the Engineering Student Success Center. "Companies like P&G want people who already have those qualities."
Support
Engineering Student Success Center, a department within the School of Engineering, provides academic resources, leadership, community building, tutoring, scholarships, internships, and minority engineering programs such as the Native Americans in Science, Technology, Engineering and Mathematics (NA-STEM) and the Summer Transportation institute summer high school programs.
Once admitted to the department, as an undergraduate student, you will be assigned a faculty advisor who will follow you through your entire undergraduate career. Your faculty advisor will not only help you decide which courses to take each semester but will also advise you regarding other issues related to success in your studies. In addition, the Senior Academic Advisor and the Director of Undergraduate Programs are knowledgeable and caring individuals who will gladly answer your questions and offer advice.
As a graduate student, you will work with a faculty member in your area of concentration. Your advisor will assist you in selecting the most appropriate courses for your degree program and interests and will guide you in preparing for and taking your master's and doctoral examinations. The Senior Academic Advisor and the Director of Graduate Programs are also available to answer questions and guide you through the steps required for eventual graduation.
Of course, each student can take advantage of the multitude of support services offered within the university, such as the Center for Academic Program Support (CAPS), the Office of Graduate Studies (OGS), the Graduate Resource Center (GRC), the Global Education Office (GEO), Writing Across Communities (WAC), Career Services, the Women's Resource Center, and the Accessibility Resource Center.