NSF-funded sensor project will promote resilience in Native American communities
NSF-funded sensor project will promote resilience in Native American communities
February 12, 2021 - by Kim Delker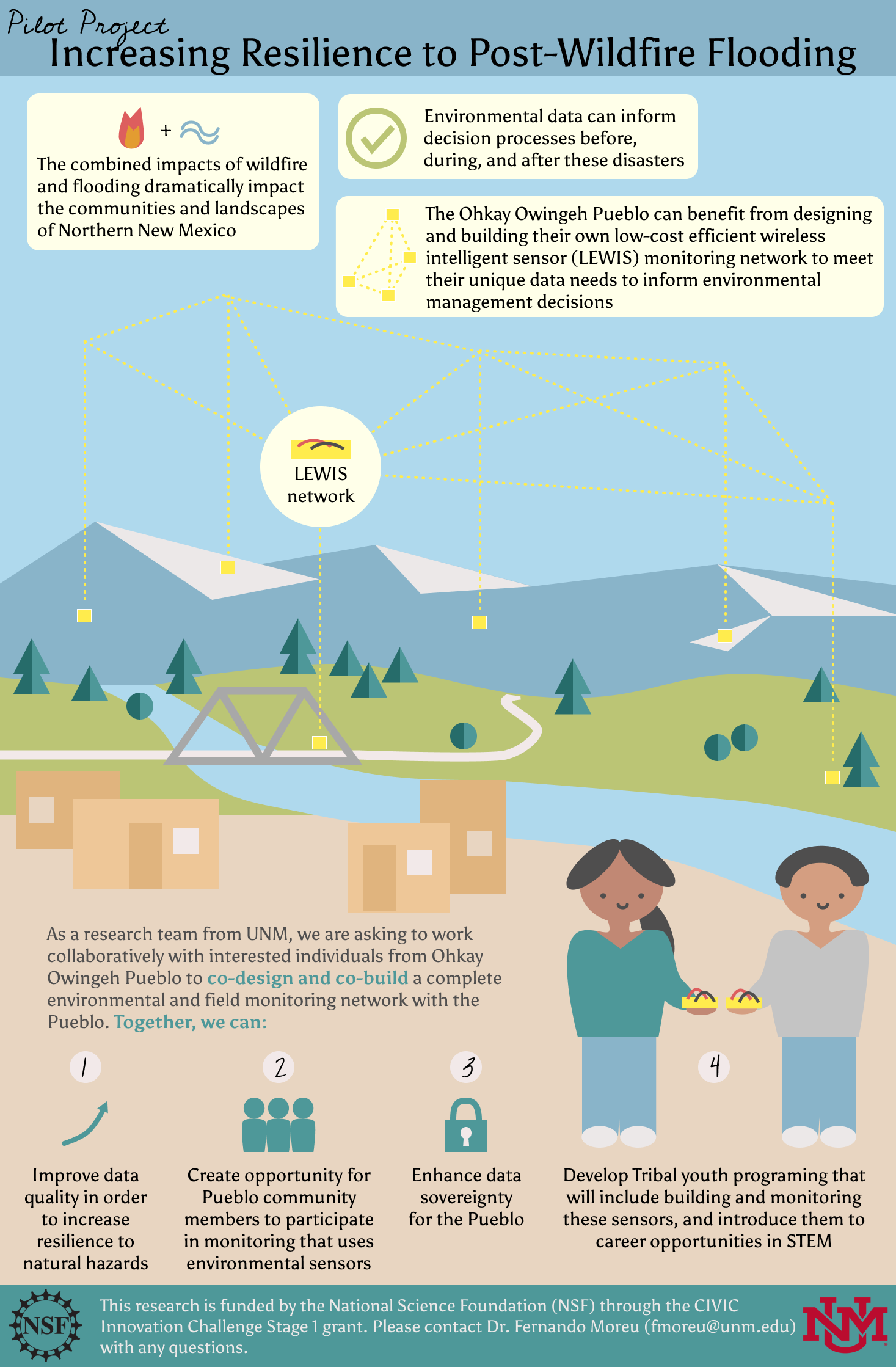 Wildfire is an essential driver of hydrological and geomorphological change in the landscapes of the western United States. The changes catalyzed by wildfire affect the hydrology of landscape and can result in catastrophic flooding.
According to the New Mexico Forestry Division, during the 2020 fire season, 44,933 acres of land were burned due to wildfire. Climate change is predicted to increase the frequency and intensity of wildfires in New Mexico. This creates a need to develop proactive measures to prepare and respond to wildfires and post-wildfire flooding. In addition, headwater systems in New Mexico are highly vulnerable to wildfire. Many Tribal communities are located within the headwaters and this places them in a unique position to be the leaders in developing responses to wildfire.
Now, a group of researchers at The University of New Mexico are recognizing the potential for Tribes to develop innovate adaptive solutions and they chose to focus on building partnerships with local Tribes. This project will use Tribal place-based knowledge to inform the co-development of low-cost sensor technologies.
Fernando Moreu, assistant professor in the Department of Civil, Construction and Environmental Engineering, is the principal investigator of a National Science Foundation project that seeks to help Native American communities become empowered through the use of sensor technology.
The project, titled "Low-Cost Efficient Wireless Intelligent Sensors (LEWIS) for Greater Preparedness and Resilience to Post-Wildfire Flooding in Native American Communities," is a short-term project that began last month and will conclude by the start of the summer with one new LEWIS sensor prototype co-developed and co-designed together with the Native American partners at Ohkay Owingeh. If successful, researchers would like to obtain longer-term funding and expand the program with their Native American partners deploying dozens (or hundreds) of LEWIS, enabling Native Americans to design and own their own wireless sensor networks.
Co-principal investigators on the grant include a cross-disciplinary group from UNM: Mark Stone, associate professor of civil, construction and environmental engineering; Carolyn Hushman, assistant professor in the College of Education and Human Sciences; Su Zhang, assistant research professor in the Department of Civil, Construction and Environmental Engineering and a senior research engineer at the Earth Data Analysis Center; and Yolanda Lin, assistant professor of geography and environmental studies.
For several years, Moreu has been researching sensors for a variety of applications, especially in detecting vulnerabilities with infrastructure like railroads and highways. He has also been working to expand the use of sensor technology to students in high school by offering workshops in basic programming with microcontrollers and many other applications such as cybersecurity. By learning programming on microcontroller devices like Arduino, students can apply sensor technology to almost anything. Using this idea, he and the team thought that teaching Tribal communities these skills would enable them to create sensors that would best meet their needs in avoiding natural disasters like floods.
"They know the disasters in their community the best, so they can use this technology and put the sensor where it makes the most sense for them," Moreu said.
He said this could include helping Tribal citizens be better warned of adverse weather conditions so they could take preventative actions like building protection or evacuating.
"It could be the difference of them knowing when to stay in or leave," Moreu said. "It gives them additional information that can inform them and allow them to make real-time decisions."
But the key aspect of this project is that it will enable Native communities to be empowered, as well as to provide valuable data about their needs to the research team.
"They will look at the data to make these decisions about their communities and that will enable them to teach us," Moreu said. "They will own the sensor, so we are giving them the power and the freedom because they understand much more about their community than we do. It also keeps the data secure with the owners, which are the sole owners of their data and brings added value on the area of Native American cybersecure wireless sensor networks." Moreu is the principal investigator of the UNM ROTC program in cybersecurity.
He said sessions for Tribal communities will be held virtually due to current health guidelines, but if the next-stage funding is obtained, there are plans for more in-depth collaborations.
In addition, this project will deliver a curriculum module on sensor technologies for environmental monitoring to high school students at the Santa Fe Indian School to introduce Native American students there to the sensor technology and pique their interest in STEM fields, Moreu said.
This project is funded by Civic Innovation Challenge, which is a partnership with NSF, the Vehicle Technology Office in Department of Energy, and the Science and Technology Director of the Department of Homeland Security. The Civic Innovation Challenge is a national research and action competition for smart and connected communities. The competition supports ready-to-implement pilot projects that have the potential to produce scalable, sustainable, and transferable solutions to address community-identified challenges in the mobility and resilience domains.
UNM was one of 52 teams awarded in Stage 1 of the competition.