Howe selected as Research Lecture Honoree
April 22, 2020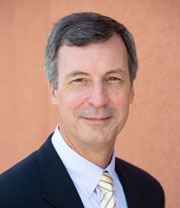 Dr. Kerry Howe, Professor and Regents' Lecturer in the Department of Civil, Construction and Environmental Engineering, has been selected as the 65th Annual Research Lecture Honoree by UNM. This is one of the highest research recognitions that UNM bestows on faculty members in recognition of research/creative activity of exceptional merit.
His areas of specialty include environmental engineering, physical and chemical processes for water and waste treatment, desalination, membrane processes for environmental treatment (including microfiltration, ultrafiltration, nanofiltration, and reverse osmosis), water chemistry, and engineering design.
Dr. Howe joined the faculty of CCEE in 2002 in the environmental area. In 2013 he established and became the Director of the Center for Water and the Environment, a center within the CCEE department. He is a registered professional engineer in Wisconsin and New Mexico, and is a Board Certified Environmental Engineer (BCEE), American Academy of Environmental Engineers.
He previously worked at Montgomery Watson Harza, Inc. and CH2M-Hill. Dr. Howe has a B.S. in Civil and Environmental Engineering, from the University of Wisconsin-Madison; an M.S. in Environmental Health Engineering, from the University of Texas at Austin; and a Ph.D. in Environmental Engineering, from the University of Illinois at Urbana-Champaign.
Congratulations to Dr. Howe on this very prestigious award!