Two at UNM receive Stamm Professorships in Advanced Design and Construction Practices
Two at UNM receive Stamm Professorships in Advanced Design and Construction Practices
November 19, 2019 - By Kim Delker
Two researchers at The University of New Mexico have been selected for endowed professorships named in honor of alumnus Robert J. Stamm.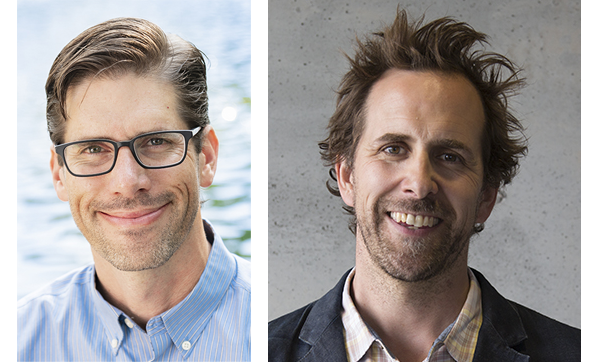 Mark Stone, an associate professor in the Department of Civil, Construction and Environmental Engineering, and Alexander Webb, associate professor of emergent technology in the School of Architecture and Planning, have received the Stamm Professorship in Advanced Design and Construction Practices.
Stone and Webb will be collaborating on projects related to resilience and sustainable practices, which will include courses, a joint project that will involve students, and a joint annual lecture or seminar.
Stone is currently director of UNM's Resilience Institute, an interdisciplinary center based in the School of Engineering. The aim of the center is to promote resilience-based research and applications to addressing pressing societal challenges, including climate change, aging populations and infrastructure, sustainable food-water-energy systems, and economic inequalities.
Webb's research focuses on urban-scale artificial intelligence and computational design.
Stamm was a civil engineer and Albuquerque native who received a bachelor's degree from UNM in civil engineering in 1942. He joined the construction contracting firm O.G. Bradbury, which was later named Bradbury Stamm. They built several buildings at UNM, including the Centennial Engineering Center. Stamm died in 2014.