New UNM assistant professor's research focuses on developing sustainable construction practices through 3D-printing
New UNM assistant professor's research focuses on developing sustainable construction practices through 3D-printing
October 17, 2019
UNM Assistant Professor in the Department of Civil, Construction and Environmental Engineering, Dr. Maryam Hojati is hoping to alter the construction industry by utilizing additive manufacturing, commonly known as 3D-printing in sustainable projects.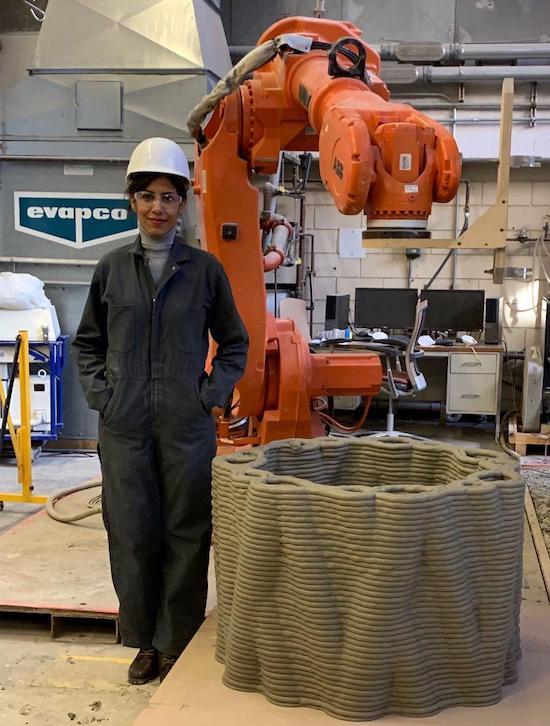 "AM with a specialized process for 3D-printing of concrete provides such an opportunity for an affordable, sustainable and optimized construction of many types of structures in a short period of time, without compromising quality, craftsmanship, or customization. Hence, my research is mostly focused on green construction in terms of material and process," Hojati said.
As global warming becomes an increasingly pressing topic for scientists, Hojati strives to develop more sustainable practices for construction. According to Hojati, it is important to target both raw materials and energy reduction during all phases of the design and construction process.
Recently, Hojati participated in the NASA 3D-Printed Habitat Challenge, where she successfully designed a composite material consisting of components indigenous to Mars and Earth. Her team at Penn State also designed a deployable printer system to utilize this material. They won four awards in different phases of this competition, and they printed the first-ever fully-enclosed 3D-printed structure on an architectural scale and in an almost autonomous process without any support structure.
Hojati is optimistic that her time at UNM will yield similar successes.
"I plan to seek out colleagues and graduate students from across other departments at UNM to collaborate with, form an interdisciplinary research team, and push the boundaries of knowledge in this research area forward in the years to come," Hojati said.