School of Engineering receives national award for diversity efforts
July 17, 2019 - By Kim Delker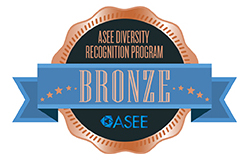 The University of New Mexico School of Engineering has received a Bronze Award from the American Society of Engineering Education (ASEE) in the inaugural Diversity Recognition Program.
UNM is one of 82 engineering programs around the country — and the only one in New Mexico — to receive the designation, which recognizes institutions for outstanding efforts to attract and retain diverse populations into engineering.
Among the recipients are Georgia Tech, Rutgers University, Texas A&M, Duke University, and University of Illinois at Urbana-Champaign.
The ASEE established a diversity plan and Diversity Initiative in response to statistics that showed declining numbers of under-represented groups who were choosing to study engineering. To reward institutions who meet goals of the diversity plan — which includes goals for increasing the K-12 and community college pipeline into engineering programs — the ASEE developed a system to recognize institutions at three levels.
Bronze, the first level, requires institutions to sign and execute the ASEE Deans Diversity Pledge, in addition to the following:
Have an established infrastructure to support diverse populations, including women, under-represented minorities, LBGTQ and those with disabilities
Have a diversity and inclusion plan
Have at least one K-12 or community college pipeline activity
Implement at least one additional program or initiative to increase diversity.
In 2015, School of Engineering Dean Joseph Cecchi was one of 220 deans to sign the Deans Diversity Pledge.
"UNM School of Engineering has a strong history of diversity and inclusion and working with a wide array of groups traditionally under-represented in engineering and STEM," said Christos Christodoulou, Jim and Ellen King Dean of Engineering and Computing. "Receiving the Bronze Award from ASEE is a major honor and proof that what we have been doing to increase inclusiveness is having an impact."
Among the active student organizations in the School of Engineering are the Society of Women Engineers, the Hispanic Engineering Student Association, the National Society of Black Engineers, the American Indian Science and Engineering Society, the Society of Enabled Engineers, and Out in Science, Technology, Engineering, and Mathematics (oSTEM).
As of fall 2018, around 21% of the School of Engineering's undergraduates are women; nearly 42% identify as Hispanic; 5.5% percent as Native American or Pacific Islander; and 1.5% as black. Among faculty, 17% of tenured or tenure-track faculty are women; 8.5% identify as Hispanic; 1% of faculty as Native American; and 1% of faculty as black.
The School of Engineering works closely with ADVANCE at UNM, a National Science Foundation-funded project to promote the recruitment, retention, and advancement of women STEM faculty at UNM. The School also recently established an administrative position — special advisor to the dean for inclusion and climate — to chair a faculty committee and create programs to reward departments that make progress toward a more inclusive climate. Mala Htun, professor of political science at UNM and deputy director of ADVANCE at UNM, will fill this role starting in summer 2019.
"The School is committed to attracting and retaining a diverse population of both students and faculty and will continue to strive to create new pathways for future engineers," Christodoulou said. "This award is only the beginning of our efforts in this area."
UNM was required to submit a diversity and inclusion plan for the designation. Among the goals in the plan is for the School of Engineering to create an Engineering Inclusion Laboratory, which will be a research and innovation center to study, develop, test and scale mechanisms to promote diversity, equity and inclusion in the School and other institutions of higher education, private industry, international organizations and nonprofit groups. Another major goal of the plan is to increase the recruitment, retention and success of faculty, staff and students from under-represented groups.
Two higher levels are also attainable to institutions after they achieve Bronze Level. The Silver Level is open to institutions who have received bronze recognition (at least two years is recommended) and who have demonstrated improvement in three or more areas listed in their goals, among other criteria. Gold Level is open to those who have at least one year in the silver category, in addition to leadership and service in the areas of diversity, including leading workshops and seminars.