Students earn honors in ASCE regional competition
April 24, 2019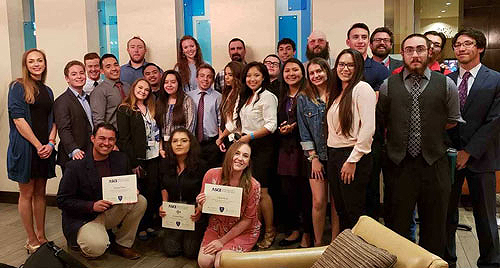 On April 4th, twenty-seven UNM civil, construction, and environmental engineering students plus their faculty advisor traveled to Boulder, Colorado, to take part in the American Society of Civil Engineers (ASCE) Rocky Mountain Regional Competition. UNM students competed in the concrete canoe, surveying, pre-design, mystery design, technical paper, and non-technical paper competitions. The UNM ASCE Student Chapter took three awards.
Surveying Competition – 2nd Place
Team members: John Coose, Aaron Trujillo, James Woodall, Joseph Kaberlein, Dominica Bennett, Sam Tafoya, Edwin Bergeron, and Taylor Busch.
Technical Paper – 3rd Place
Sabrina Moore
Non-technical Paper – 2nd Place
Daniel Acosta
Faculty advisors Dr. Walter Gerstle and Mr, Ken Cooper accompanied the students to this event.