High School Students To Compete in National Bridge Building Competition
March 26, 2018
Dr. Mahmoud Taha, Chair of the UNM Civil Engineering Department, joined Dr. David Hadwiger of New Mexico Department of Transportation (NMDOT) at Eldorado High School to congratulate the team of students who were selected as finalists in the national American Association of State Highway Transportation Officials (AASHTO) bridge building contest.  The three-student team deisgned a cantilever bridge as their winning entry.  The team of tenth graders will attend the competition finals at the AASHTO Spring Meeting, May 21-24, 2018, in Franklin, Tennessee.  At the Finals, teams will present a 10 minute PowerPoint presentation and structurally test their bridges against teams from other states to determine the winning bridge.
The winning team, pictured with Dr. Taha, are Anthony Maestas-Wimpy, Elijah Ruiz, and Michael Maestas-Wimpy.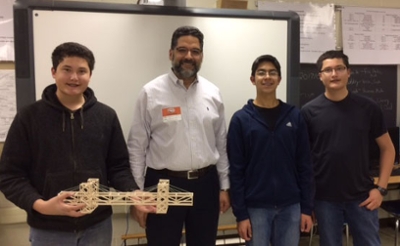 The Civil Engineering Department has invited the team to visit our structural lab to observe full scale structural testing. In addition, we will provide the student team with internships to work at UNM Civil Engineering in the summer of 2018.