APA-NM and ASCE-NM Joint Annual Conference
October 12, 2015
The New Mexico American Society of Civil Engineers (ASCE) and the New Mexico American Planning Association (APA) collaborated for the first time to deliver a conference entitled, "Building Alliances for a Livable New Mexico," on September 23-25, 2015 at the Las Cruces Convention Center.  Eight blocks of sessions, each with four parallel tracks, produced thirty-two presentations on civil engineering and planning.
State Representative Jeff Steinborn provided a keynote luncheon address on the Rio Grande Trail, and Kevin Shepherd, P.E., ENV-SP provided another keynote luncheon address entitled, "Bridging the Gap Together to Build Livable, Resilient Communities". There were approximately twenty conference sponsors, with approximately eighteen display booths at the conference.  Civil engineers and planners forged many valuable alliances at the conference. The conference included a Reception, Dinner, and Movie on Main Street in downtown Las Cruces, as well as a bicycle tour of Las Cruces.
About 250 civil engineers and planners attended the conference, including the UNM students and faculty shown in the photograph below.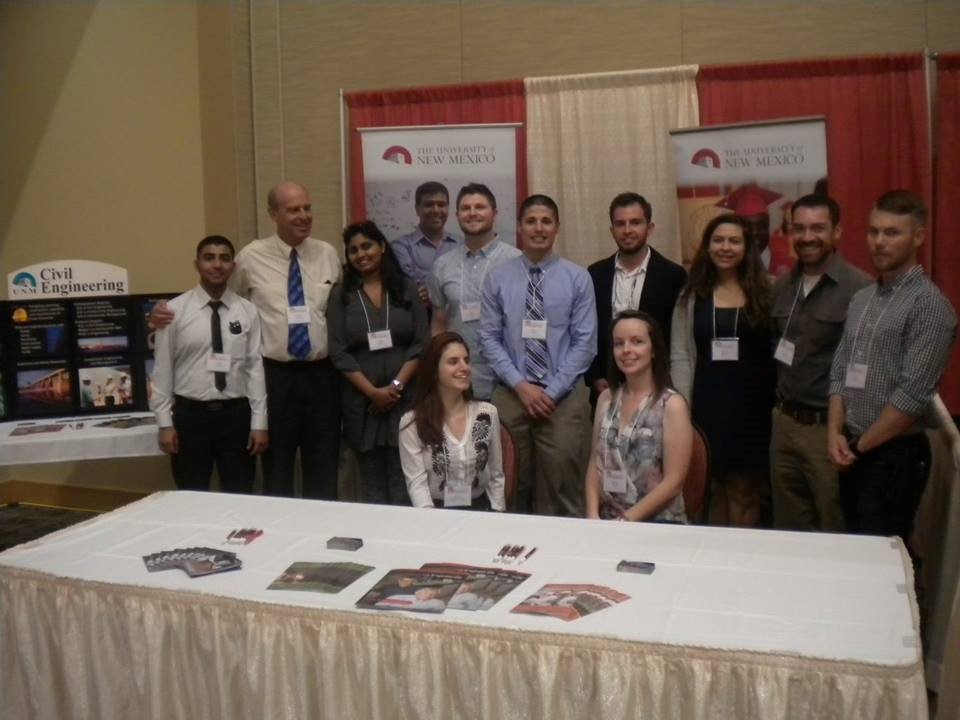 Standing, from left: Sushil Ghimire, Walter Gerstle, Shreya Vemuganti, Andres Duran, Seth McVey, Jordan Chavez, (unknown), Caroline Homans, Jeff Scott, Justin Nichols. Seated, from left: Claudia Jimenez Arellano, and Melinda Rouse.