Schuler selected as director of the Center for Water and the Environment
July 18, 2023 - By Kim Delker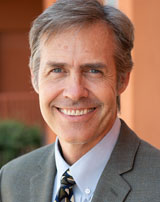 Andrew Schuler, a professor in the Gerald May Department of Civil, Construction and Environmental Engineering, has been selected as the director of the Center for Water and the Environment at UNM, effective July 1.
Schuler served the 2022-23 year as interim director of the center after longtime director Kerry Howe retired.
Schuler joined the UNM faculty in 2013. His research interests include the biological degradation of contaminants with a focus on improving water quality.
"I look forward to working with all of you to continue the outstanding trajectory of our center," he said. "It is truly a privilege to be working with such a talented, hard-working and collegial group of people. It's really quite amazing what we have built together since the CWE started 10 years ago."
The Center for Water and the Environment began in 2012 and has twice received funding from the Centers for Research Excellence in Science and Technology (CREST) program at the National Science Foundation. A $5 million grant was received in 2014 and a second $5 million grant was received in 2019.
The UNM CREST Center is focused on increasing the participation of underrepresented groups in science, technology, engineering and math professions while conducting cutting-edge research into technological and engineering-based solutions to problems with water and the environment. The grant is organized around three research themes of watersheds and wildfires; treatment technologies; and water and energy.