UNM to be home to new Center for Pedestrian and Bicyclist Safety
March 3, 2023 - by Kim Delker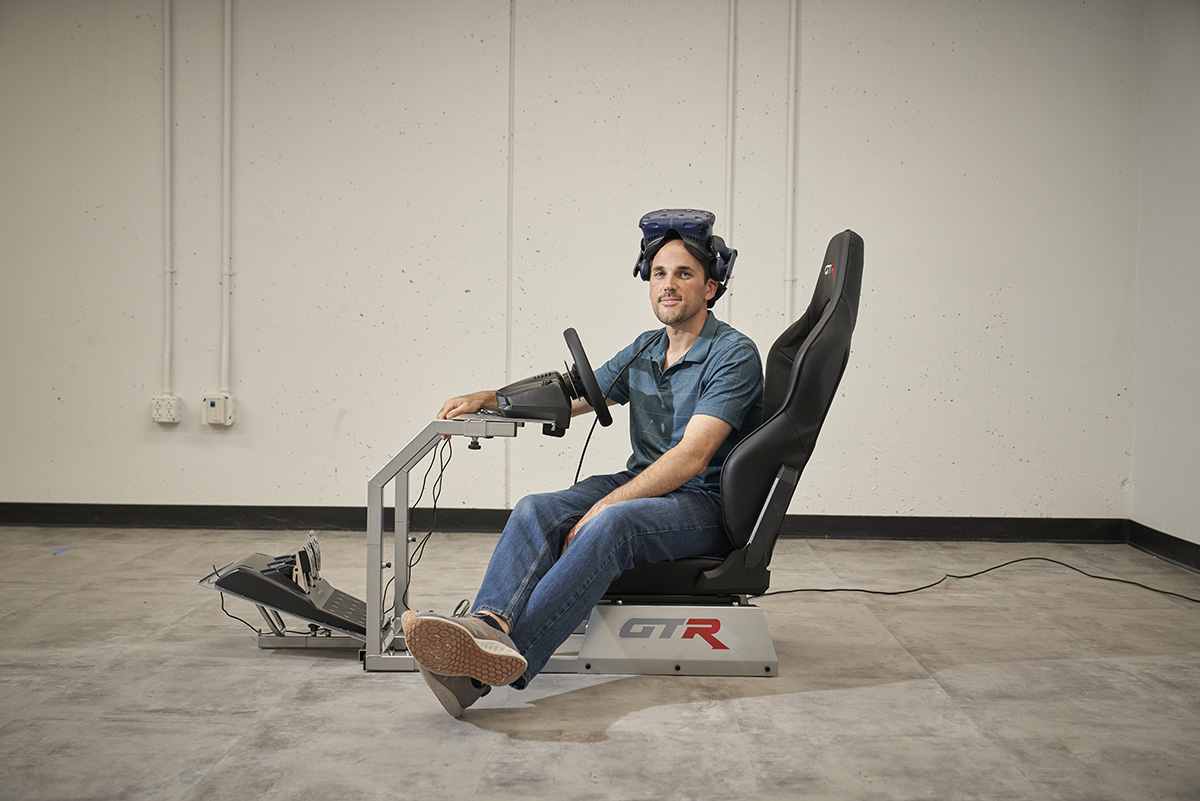 A new center at The University of New Mexico will address a deadly problem in the U.S.: the thousands of people killed every year in pedestrian and bicyclist crashes, especially in New Mexico, which ranks at the top of the list.
The Center for Pedestrian and Bicyclist Safety will be a Tier One University Transportation Center (UTC), funded by the U.S. Department of Transportation, and will receive $2 million a year for five years. The center will be led by Nicholas Ferenchak, an assistant professor in the Department of Civil, Construction and Environmental Engineering at UNM.
"About 20 percent of the fatalities on the road are pedestrian or bicyclist fatalities, and New Mexico has had the highest pedestrian fatality rate for six years," he said. "Secretary of Transportation Pete Buttigieg set a goal of zero U.S. traffic fatalities, and while that is a lofty goal, we would like to reverse the national trend and come up with solutions to make our roadways safer by focusing on the most vulnerable road users: pedestrians and bicyclists."
Ferenchak, who joined UNM in 2018, focuses on active transport and multimodal aspects of emerging transportation technologies through their impacts on health and safety. He leads UNM's Transportation Virtual Reality Lab, which provides an immersive roadway environment that allows research into situations that would be unsafe to conduct in real life.
He said the new center will utilize existing VR technology in his lab and research that he and his research team have conducted the last several years, which has included looking at the impact that the Albuquerque Rapid Transit (ART) project had on pedestrian and driver safety along Central Avenue. Despite the much-publicized disruption that the project had to motorists and businesses along the corridor, Ferenchak said that during the first year of the ART project, serious injuries and fatalities dropped 60%. It is findings like that that he hopes to expand on in the new center.
"What caused that drop? Was it lowered speed of motorists or the elimination of turning conflicts? We would like to look at the data and use it to improve safety on state roads and 'arterial' roads around the city that are heavily traveled," he said.
He said that Albuquerque and many cities in the western United States provide an ideal setting to study pedestrian and bicyclist safety. The mild weather and spacious roadways often mean that more people choose to walk or bike. But in New Mexico, factors such as poverty may mean that some residents cannot afford a vehicle so instead have no choice but to walk or bike, often on roadways that lack sidewalks or other safety features.
"We will be looking at how pedestrian and bicyclist safety is linked with socioeconomic factors and equity issues," he said. "People should be able to safely walk or bike to where they need to go."
Ferenchak said the UNM team will include new Department of Civil, Construction and Environmental Engineering faculty member Lisa Losada Rojas, along with a mix of other faculty and graduate and undergraduate student researchers.
Each UTC is a consortium of two- and four-year colleges and universities that come together to form a unique center of transportation excellence on a specific research topic. In addition to UNM at the lead, partner members of the center will be San Diego State University; University of California, Berkeley; University of Tennessee, Knoxville; and University of Wisconsin, Milwaukee.
Along with the civil engineering aspect that Ferenchak and his team will be looking at, other members of the multi-institutional team will focus on transportation planning, population demographics and socioeconomic factors, human behavior and possibly even partnerships with UNM Health Sciences to look at the kinds of injuries that doctors encounter from pedestrian traffic patients.
"It will be more than just civil engineering," he said. "There are a lot of questions we would like to answer."
Ferenchak said leading this center — which will be the first Tier 1 center at UNM — will hopefully put the university on the map when it comes to pedestrian and bicyclist safety research.
"There is a lot of research potential in this area," he said. "As a researcher, it is good to get some validation for the work we have been doing. We would like to ride this momentum and build a presence for UNM in this area."
The Center for Pedestrian and Bicyclist Safety was among 34 UTCs to receive up to $435 million in grants, which was announced last month by Transportation Secretary Buttigieg. The projects are funded by President Biden's infrastructure package, which included $90 million in funding a year.
Another UNM-affiliated project was also part of announcement. The Southern Plains Transportation Center, which is tasked with improving the durability and extending the life of transportation architecture, includes 10 universities as consortium members, including UNM. That center will receive $3 million a year. Rafi Tarefder, a professor in the Department of Civil, Construction and Environmental Engineering at UNM, is the associate director of the Region 6 U.S. Department of Transportation research center.
Other UTCs that received funding included projects that will reduce traffic congestion and cybersecurity risks, improve the lifespan of transportation infrastructure, and preserve the environment.
The U.S. Department of Transportation initiated the University Transportation Center Program in 1988. The UTC Program awards and administers grants to consortia of colleges and universities across the United States, advancing transportation research and technology, and developing the next generation of transportation professionals.