Graduate student wins award at national water conference
July 18, 2022 - Kim Delker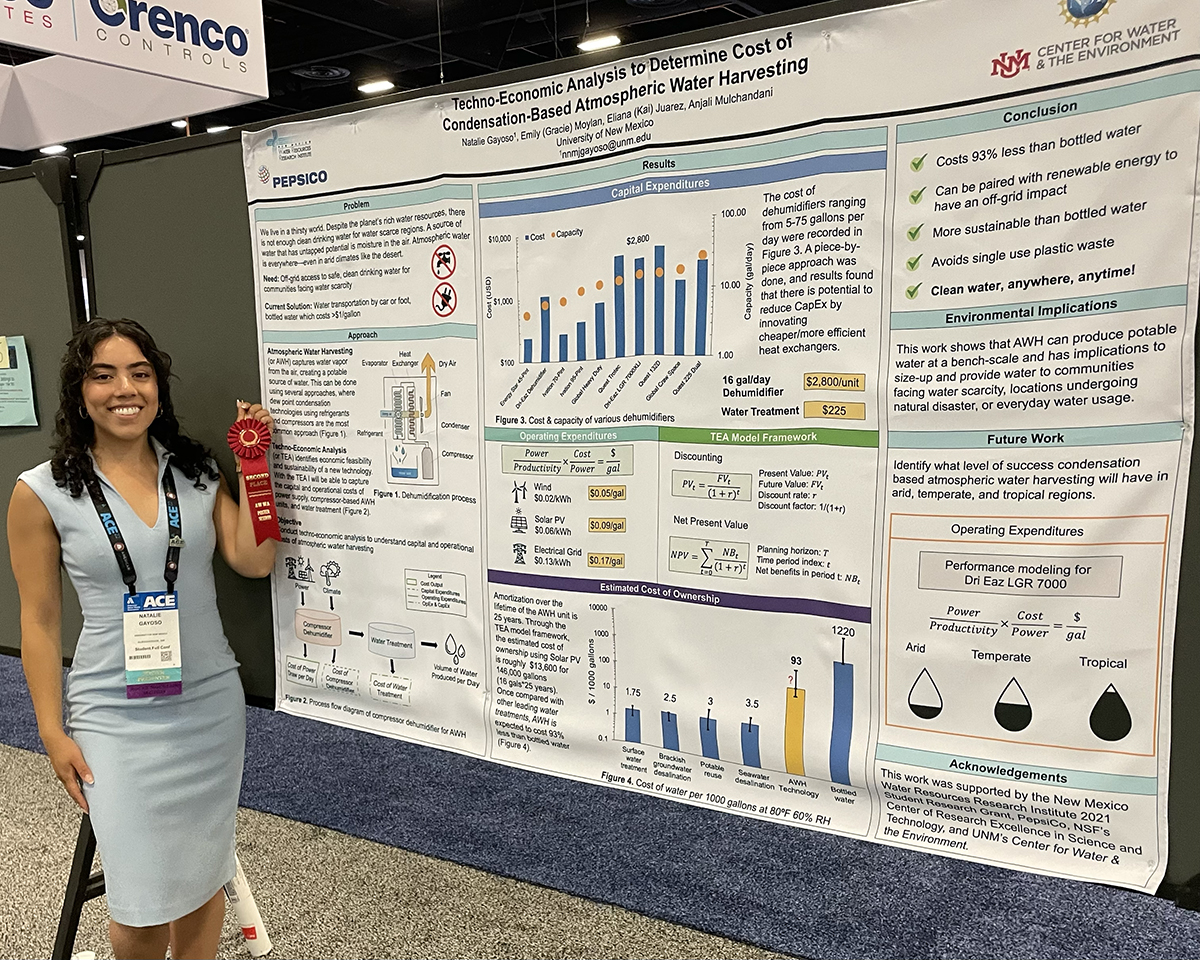 A graduate student in the Department of Civil, Construction and Environmental Engineering won a national award for her presentation at the American Water Works Association (AWWA) ACE22 conference, held June 12-15 in San Antonio, Texas.
Master's student Natalie Gayoso presented "Techno-Economic Analysis of Condensation-Based Atmospheric Water Harvesting" at the Fresh Ideas poster session and received second place.
Gayoso, who is studying with assistant professor Anjali Mulchandani, said the presentation was similar to her master's thesis work, looking at the economic data surrounding the emerging technology of atmospheric water harvesting. Atmospheric water harvesting involves using technology that is essentially a dehumidifier to extract extra moisture from the atmosphere as an alternative water source.
"There is not a lot of data on this process," she said. "My work blends research with the cost perspective, looking at the cost of producing water in different regions, from arid to tropical."
Gayoso, who received her bachelor's degree from the department, decided to stay on at UNM because she was interested in water research, and because the university is home to the Center for Water and the Environment, a National Science Foundation-funded research center.
"I didn't know about atmospheric water harvesting, and Anjali Mulchandani was a new faculty member studying this issue. I was looking for an advisor, she had funding, and it just sort of landed in my lap," Gayoso said.
She said that UNM and the Center for Water and the Environment provided her with so many opportunities she would not have had at other institutions.
"I've attended three conferences in the last six months, and I've gotten so much attention and requests after presenting at AWWA," Gayoso said. "My parents are both from South America, and I'm a first-generation college student. I'm so thankful for these networking opportunities I've received."
In addition to research, she has also been involved in various outreach projects through the Center for Water and the Environment, including events at Explora!
"I've been part of this new outreach group, and it's been neat to engage with a younger audience and see their reactions," Gayoso said.
She is now doing an internship in renewable energy at Sandia National Laboratories, but is open to opportunities the future holds after she graduates in December, but will involve giving back.
"I would like to help New Mexico communities have access to clean drinking water," she said.