PhD student honored at conference
June 3, 2021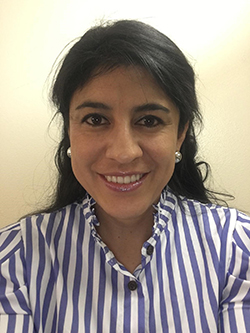 Isabel Meza has received the 3rd Place Oral Presentation Award for the AWWA/WEA (American Water Works Association/Water Environment Federation) Rocky Mountain Section student conference! This is a phenomenal accomplishment and visibility for our program given that students from New Mexico State University, University of Wyoming, Colorado State University, Colorado School of Mines, and University of Colorado -Boulder also participated in this conference!
Isabel, a 4th year PhD candidate in the Department of Civil, Construction, and Environmental Engineering at The University of New Mexico. is working with Professor Jose M. Cerrato in his EH2-O Geochemistry Research Group. Originally from Ecuador, Isabel has a BSc. in Environmental Engineering and a MSc. in Environmental Management and Natural Resources.
For 19 years, she has been passionate about understanding all the physical and chemical interactions that exist between the industry and the environment. After graduation, she plans to work in a consulting firm that manages different water protection projects around the world and to become an expert on heavy metals water remediation, especially uranium and arsenic.