Engineering Faculty from Northwestern University Present at the Earthquake Engineering Research Institute (EERI) Student Chapter
Engineering Faculty from Northwestern University Present at the Earthquake Engineering Research Institute (EERI) Student Chapter
April 2, 2018
Dr. Arancha Alarcon and Dr. Mark Fleming presented a seminar to over twenty people from the EERI student chapter and other students and faculty in the department.  Dr. Alarcon and Dr. Fleming are both faculty at the University of Northwestern, in the departments of civil and environmental engineering and mechanical engineering, respectively.
Dr. Alarcon is a licensed professional engineer in the State of Illinois and a member of the Structural Engineering Association of Illinois (SEAOI) and the American Society of Civil Engineers (ASCE). Prior to teaching at Northwestern University, she worked for over five years at Halvorson and Partners (now WSP) on major building projects. Dr. Alarcon explained her involvement in the design and construction of an 800 foot tall building in Madrid, Spain.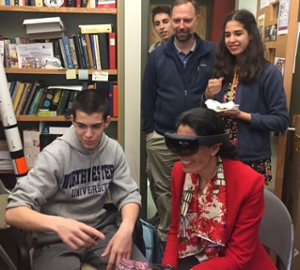 Dr. Fleming is a licensed professional engineer in the State of Illinois and a member of the American Society of Mechanical Engineers (ASME), Society of Automotive Engineers (SAE), the United States Association for Computational Mechanics (USACM), and ASM International. He is a consultant for design review and evaluation of products, machinery and product testing, accident investigation and reconstruction, and failure analysis. Dr. Fleming's presentation covered one accident investigation involving rotatory structures, fatigue, and meshless finite elements for forensic engineering.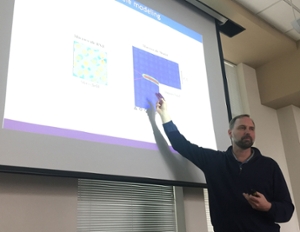 Undergraduate and graduate students, as well as faculty, enjoyed both presentations and had the opportunity to converse with the guest speakers about research and career insights.
If you are interested in becoming involved in the EERI student chapter, officer positions are open for Fall 2018.  Chapter members will participate in the EERI National Competition directed to undergraduates.  You can contact the faculty advisor, Dr. Fernando Moreu, fmoreu@unm.edu, or the EERI student chapter President for 2018/19, Sabrina "Sab" Moore sabrinavmoore96@unm.edu.