ITE Western District Awards UNM Student Chapter Travel Stipend
September 27, 2017
The Western District of the Institute of Transportation Engineers (ITE) has awarded the University of New Mexico Student Chapter a $1,000 travel stipend to support their members in attending the upcoming ITE Student Leadership Summit in Corvallis, Oregon, January 19-21, 2018.  UNM Student Chapter members attended the ITE New Mexico Section monthly meeting on Thursday, September 7, 2017 at El Pinto Restaurant in Albuquerque to receive their check. 
Last summer, UNM Student Chapter members volunteered their time to support the ITE Western District 2016 Annual Meeting Local Arrangements Committee in organizing and running the annual conference in Albuquerque.  "The UNM students' efforts really helped us take the 2016 Albuquerque meeting to a higher level," said Jim Barrera, 2016 General Meeting Chair. "They helped run registration, the technical sessions, and social events, and they showed all of our attendees some great New Mexico hospitality."  After the meeting financial close-out yielded a surplus, the Western District wanted to thank the students by returning part of it to the student chapter and assure that they remain actively involved in ITE.  Now in its fifth year, the ITE Western District Student Leadership Summit brings together more than 100 students from 40 western universities with the goal of enhancing their academic and professional success in the transportation engineering field.
UNM Student Chapter Members who volunteered at the Albuquerque meeting include:  UNMChapter President Robert Garcia, Vice President Daniel V. Guerrero, Mileena Sanchez, Pily Rodriguez, Nicolas Roehrman, Joseph Sing, Omeed Enrahimi, Melanie C. Foucault, Fei Han, Stephen Lujan, and Kristal Metro.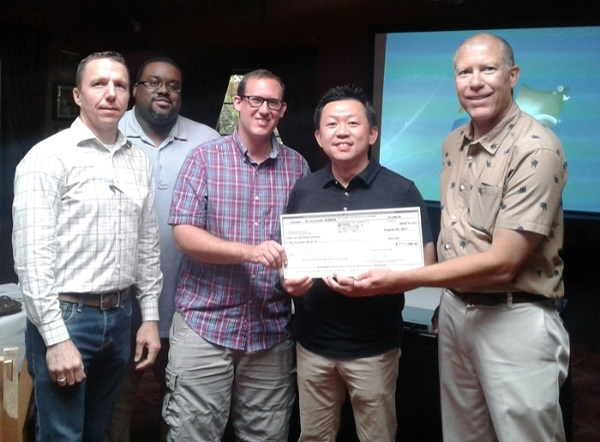 Institute of Transportation Engineers UNM Student Chapter members receive a $1,000 check from the Western District at the September 7, 2017 New Mexico Section Meeting at El Pinto Restaurant in Albuquerque.  Left to right are:  Western District Secretary-Treasurer Paul Barricklow, New Mexico Section President Hiram Crook, Student Zack Baiamonte, Student Fei Han, and 2016 Meeting General Chair Jim Barrera.