Dr. Jose Cerrato to Receive Inaugural New Mexico EPSCoR Mentoring Award
April 10, 2017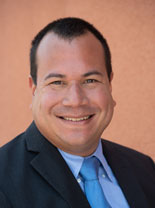 The NM EPSCoR Mentoring Award is designed to recognize NM EPSCoR participants who not only build relationships with students and support their academic, research, and career endeavors, but also work to create inclusive environments for our diverse students.
Characteristics of a mentor are:
has a strong interpersonal and professional relationship with those whom they mentor, including strong communication, accessibility, honesty, empathy, consistency, and patience.
tailors their mentoring styles and content to their mentee's identity, including adjustments due to culture, ethnicity, gender, age, and more. Nominee also demonstrates open-mindedness and creates an inclusive environment for diverse students.
works to advance their mentee's academic, research, and professional goals in directions most desired by that individual, including advising in research, promoting opportunities outside of the classroom, assisting with successful transitions, and paying attention to the pragmatic aspects of career development.
Dr. Cerrato will officially be awarded the Inaugural New Mexico EPSCoR Mentoring Award at the NM EPSCoR All Hands Meeting on April 27, 2017.