Civil Engineering Department Supports STEM, Inspiring "Dream Builders" Through Augmented Reality
Civil Engineering Department Supports STEM, Inspiring "Dream Builders" Through Augmented Reality
April 24, 2017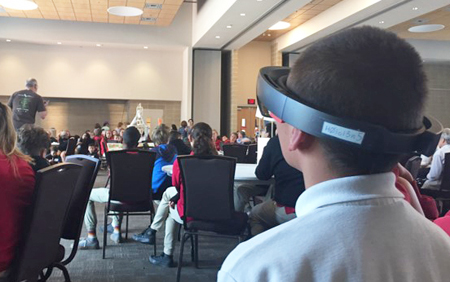 Dr. Fernando Moreu, UNM civil engineering professor, along with Dr. Liu Bideng (visiting scholar in civil engineering) and graduate student Rhytham J. Soni presented augmented reality in civil engineering to over 350 students. The event was part of a day-long event at the National Hispanic Cultural Center on Thursday, April 13th.  The UNM team explained general concepts of augmented reality to the students.  Then, the group of "dream builders" interacted directly with virtual reality with the help of a projector and a screen. 
The children at the museum also had hands on experience, under the guidance of the professor, to use the 3D virtual glass and to use the 3D objects by themselves. The purpose of the demonstration was to introduce future technologies and develop interest in engineering in the upcoming generation.
The team also introduced the middle school "dreamers" to "future" inspection tools for civil engineering, such as a remote inspector that the user can move using a remote control (mobile phone). The middle schoolers also learned about bridges and structures by looking at structural steel bolts and discussing remote sensing and inspection using new technologies.
The augmented reality demonstration is part of a supported project jointly directed by Dr. Moreu and Dr. Mascarenas from the Engineering Institute at Los Alamos National Laboratory empowering augmented reality for civil engineering inspections, supported by the New Mexico Consortium.