New Research Project Funded by the National Academy of Sciences Towards Safer Railroad Bridges Using Drones and Lasers
New Research Project Funded by the National Academy of Sciences Towards Safer Railroad Bridges Using Drones and Lasers
January 12, 2017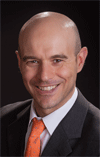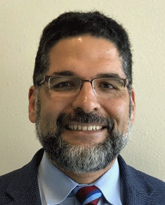 Professors Fernando Moreu and Mahmoud Taha have been awarded with research funds by the National Academy of Sciences with the Transportation Research Board (TRB) IDEA Award. The selected research project from Moreu and Taha is entitled, "Railroad Bridge Inspections For Replacement Prioritization Using Unmanned Aerial Vehicles (UAVs) with 3D Laser Scanning Capabilities".
This research project includes a concept test of integrating UAVs and laser technologies to assess the structural condition of simply supported spans conforming railroad bridges, thereby informing subsequent prioritization of the need for more detailed inspections. The CN railway has agreed to provide input throughout the proposal and to facilitate the testing of the concept outlined in this proposal in their bridges. The end result will include a feasibility and cost analysis of using and developing UAVs and laser technologies for railroad bridge inspections and assessment at the network level (i.e., for multiple spans and multiple bridges within a given territory). This research is consistent with Rail Safety IDEA Topics for Investigation requesting innovative approaches to improve railroad safety and performance of rail access. The main emphasis of this research is freight traffic and transportation, but the application is expected to assist any other type of railroad operations such as passenger and intercity passenger rail.
The review panel for this proposal includes: Martita Mullen and Sandro Scola, senior engineering staff from the CN railway; Duane Otter, director of bridge research of the Transportation Technology Center, Inc. from the Association of American Railroads (AAR); David Mascarenas, senior research scientist at the Engineering Institute of Los Alamos National Laboratory; and Rafael Fierro, director of the Multi-Agent, Robotics, and Heterogeneous Systems Lab (MARHES) and full professor in the department of electrical and computer engineering in the School of Engineering at the University of New Mexico. The PIs, the review panel, and the project manager had their kick off meeting on December 21, 2016.
Preliminary testing in the Department of Civil Engineering at UNM.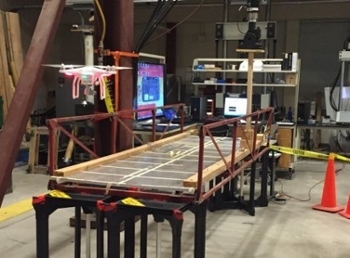 Review Panel Members