Dr. Jose Cerrato's Research Featured in Emerging Investigators 2016 Issue
September 19, 2016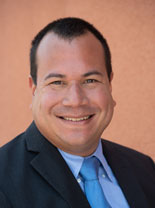 Dr. Cerrato's research was featured in the Emerging Investigators 2016 special issue of the journal of the Royal Society of Chemistry (RSC), Environmental Science: Processes & Impacts. The following statement from the journal describes the objective of this special issue:
"Environmental Science: Processes & Impacts is committed to supporting early career scientists, and it is because of this that we are very pleased to introduce the fourth edition of our Emerging Investigators issue, which celebrates the best and brightest among early career scientists around the world."
Additional details about this special issue can be found at the following link:
http://pubs.rsc.org/en/journals/articlecollectionlanding?sercode=em&themeid=78ab3a27-bd51-41c6-b40b-60bf6a62578f
The title of the article from Dr. Cerrato's research group featured in this issue is "Wildfires and water chemistry: effect of metals associated with wood ash", which was co-authored in collaboration with undergraduate students Chris Hirani and Alexander Clark, and Drs. Johanna Blake, Abdul-Mehdi Ali, Kateryna Artyushkova, Eric Peterson, and Rebecca Bixby from the University of New Mexico.