Doctoral Student Wins Second Place in Poster Competition
September 6, 2016
Shreya Vemuganti, a PhD student in civil engineering, won 2nd place at the graduate student poster competition at the American Railway Engineering and Maintenance of Way Association (AREMA) Annual Conference and Exposition in Orlando, Florida on August 28, 2016.
The poster presented was tilted, "Survey about Bottom Abrasion of Prestressed Concrete Ties," by Shreya Vemuganti and Fernando Moreu.  This survey was conducted with experts from the following organizations:
1. The Association of American Railroads (AAR) 
2. The American Railway Engineering and Maintenance-of-Way Association (AREMA) 
3. Transportation Technology Center Inc. (TTCI) 
4. GIC 
5. Precast Concrete Manufacturers' Association (PCMA)
6. The University of New Mexico (UNM)
7. Western New England University (WNE)
8. University of Illinois at Urbana Champaign (UIUC) 
9. Bowman, Barrett, & Associates 
11. AMSTED Rail 
12. Structures and Dynamics Division, John A. Volpe National Transportation Systems Center 
In addition to the poster competition, the AREMA Annual Conference and Exposition had 72 technical presentations with speakers from railroad industries, consultants and construction companies. At the exposition, there were 145 exhibitors from various categories like construction, consultants, government agencies, suppliers of engineering services, maintenance, passenger and transit, structures and track. For students, the conference had special networking events with different companies from Canada and U.S.A.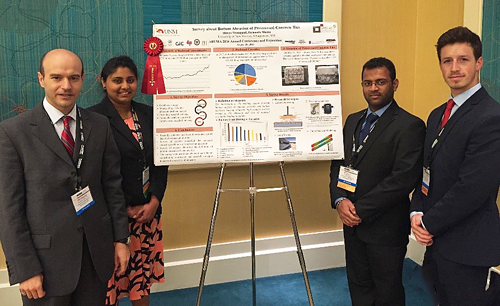 From left:  Dr. Fernando Moreu, Assistant Professor; Shreya Vemuganti, PhD student; Piyush Garg, Graduate student; Jose Alberto Gomez, Graduate student