Water Volcano on Westside Albuquerque
December 21, 2015
Water Volcano on Westside Albuquerque
UNM, NMSU grads help create a community amenity in an unexpected place.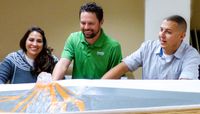 The dormant volcanoes west of Albuquerque frame the view on the western horizon from anywhere in the city. Next summer westbound drivers on I-40 will be able to glance to their right as they rumble over the Westside I-40 diversion channel, and they just might see water erupting from a different kind of volcano in the middle of the channel.
The volcano is the brainchild of Jerry Lovato, chief engineer of the Albuquerque Metropolitan Arroyo Flood Control Authority (AMAFCA). He worked with three engineers, Tyler Ashton, the project manager at Wilson and Company, and New Mexico State University graduate; James Lopez a Civil Engineering graduate from the University of New Mexico and intern at Wilson and Company and Adrienne Martinez, a research engineer who runs the UNM Hydraulics Lab and recent UNM graduate.
They worked together with Lovato to design the volcano and built a working model in the Centennial Engineering hydraulics lab on campus.
Westside Albuquerque ends abruptly just past 98th Street. The channel flows just behind a subdivision near 98th St. and I-40. West of the channel there's nothing but desert.  
The water volcano is designed to do two things. It will put oxygen into the water, a plus for fish and other inhabitants of the Rio Grande where this water will eventually flow, and it will make people smile. When there is water flowing in the diversion channel, the water eruption should be about eight feet from the volcano cone.
"It's going to be the first thing you see coming into Albuquerque or the last thing you see leaving and it's going to be amazing," said Lopez.
Most of the diversion channels in Albuquerque have pedestrian and biking trails running beside them. There will be a trail built along this channel as well, but it's in an isolated place. The water volcano will be used as a draw to encourage more people to use this part of the trail.
Projects like this are important to UNM. Students work alongside professional engineers to develop skills they will need in the professional world. Martinez said, "They are getting to learn things that they will need when they go into their first job, simple things like measuring."
Work on the real water volcano is expected to start in the channel early next year, and by the time the monsoons hit Albuquerque, AMAFCA expects its water volcano to be ready to erupt.