Civil Engineering Students Recruit for Student Chapters
September 2, 2015
Civil Engineering and Construction Management students were at the Duck Pond on Thursday to advertise the opportunities that are available by the department's three primary student organizations: American Society of Civil Engineers (ASCE), Associated General Contractors (AGC), and Home Builders Association (HBA).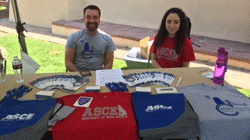 Jeff Scott and Saydra Alvarez
The student organizations have a monthly combined meeting and work individually to prepare for their annual group competitions.  The ASCE Rocky Mountain district will have their bridge and concrete canoe competition in Denver, CO from 31 March to 2 April, 2016.  The AGC students will send two teams to the Region 6 & 7 Associated Schools of Construction competition for Sustainable Buildings and Commercial Construction in Reno, NV from 10 to 13 February, 2016.  The HBA has their annual student competition in conjunction with the International Builders Show in Las Vegas, NV from 19 to 21 January, 2016. 
These student organizations are open to all UNM students.  Since the teams often need assistance from students in other than engineering disciplines, all majors are encouraged to participate.  Please feel free to send an email to the Civil Engineering Department (civil@unm.edu) if you desire additional information.