Two Engineering students selected for NSF Graduate Research Fellowship awards
April 17, 2023 - by Kim Delker
Two students in The University of New Mexico School of Engineering have received National Science Foundation Graduate Research Fellowship (NSF GRFP) awards in environmental engineering.
Carl Abadam and Christine Gleicher, both students of Anjali Mulchandani, assistant professor of civil, construction and environmental engineering, say their research as undergraduates has prepared them not just for graduate school but also for developing solutions to the world's grand challenges.
"I am so proud of all the hard work they put into their undergraduate (and grad) careers and am excited to see everything that they accomplish going forward," Mulchandani said.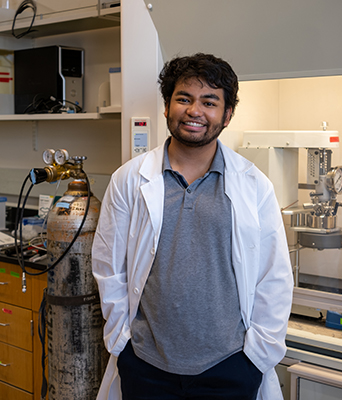 Abadam described his research with Mulchandani in relatable terms: "Basically, I take poop from wastewater and turn it into fuel. It's a technology called hydrothermal liquefaction."
He said the process is like an extreme pressure cooker that takes water to subcritical conditions and transforms the organics into biocrude oil.
"As we further emphasize the need for renewable energies, I believe that finding ways to convert our waste into something usable again will help ensure a more sustainable future," he said.
Gleicher's research with Mulchandani has involved investigating the ability of fungi, isolated from the Jackpile Mine in Laguna Pueblo, to uptake arsenic from solution. Laguna Pueblo has contaminated the soil, air, water and food of the neighboring communities by increasing the concentrations of toxic metals like arsenic.
"This project will provide insight into possibly using fungi that are naturally present in plants growing in the Laguna Pueblo to clean up the toxic mine waste created from the Jackpile Mine," she said.
Abadam said he is humbled to receive the GRFP, saying that it was possible only because of the support he received while a student.
"I am honored to be supported by a network of people that support me," he said. "I think we are all capable of science, and I have gained greater confidence in myself to push boundaries and explore exciting new paths."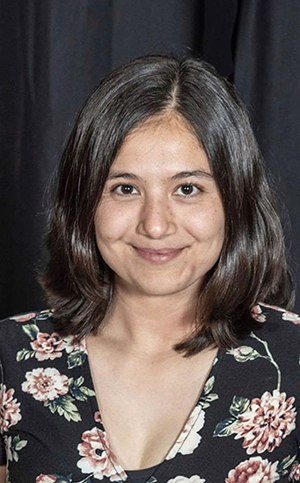 Gleicher, who is finishing her undergraduate degree this semester in chemical engineering at UNM, said this fellowship is meaningful to her as a member of the underrepresented group of women in STEM at UNM.
After UNM, she will pursue a Ph.D. in environmental engineering at the University of Colorado, Boulder in the fall. Long term, she would like to be a professor and researcher position at an R1 university. She feels that her time at UNM has well-prepared her for an academic future.
"My current teacher assistant position at UNM has solidified my desire to become a professor in the future for a Hispanic-serving institution like UNM," she said.
Last year, Gleicher was honored as a Goldwater Scholar.
"Earning this fellowship means the world to me as it will allow me to fulfill a burning desire of mine: to continue achieving a higher education," she said.
Abadam said is grateful to Mulchandani, as well as professors José Cerrato and Kerry Howe; lab manager Katelin Fisher; the graduate and undergraduate students in environmental engineering; the Center for Water and the Environment; and his family.
He would eventually like to find a position that allows him to further scientific research and promote engineering education.
"I want to inspire the next generation of problem solvers, especially those underserved and underrepresented," he said.
The purpose of the NSF Graduate Research Fellowship Program is to ensure the quality, vitality and diversity of the scientific and engineering workforce of the United States. GRFP seeks to broaden participation in science and engineering of underrepresented groups, including women, minorities, persons with disabilities and veterans. The five-year fellowship provides three years of financial support with an annual stipend.