Engineering professor receives Fulbright Scholarship to Spain
April 6, 2020 - by Kim Delker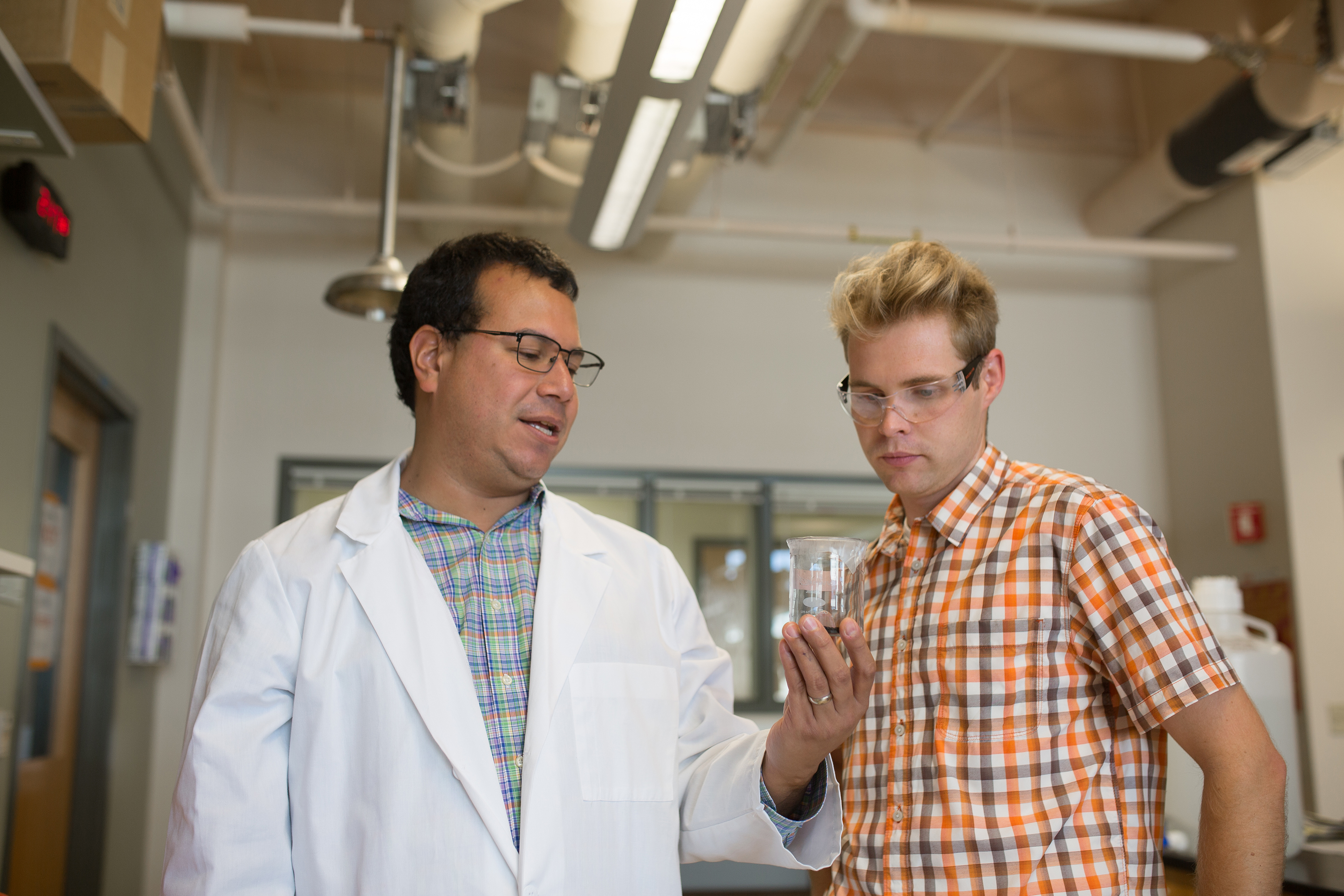 José Cerrato, left, and student
José Cerrato, associate professor in the Department of Civil, Construction and Environmental Engineering at The University of New Mexico, has been selected for a Fulbright Scholarship, which will allow him to travel to Spain to research ways to better detect contaminants in water near mining sites.
Cerrato will establish a collaboration between the Electrochemistry Institute at the University of Alicante in Spain and UNM for the development of electrochemical sensors to detect metal contamination in water near mining legacy sites. His travel is expected to begin in spring 2021.
In Spain, Cerrato will be conducting work on developing improved sensing technology to help alleviate some of the effects of these contaminants. This project will integrate the expertise and facilities in electrochemistry at the University of Alicante with the advanced spectroscopy and materials at UNM.
Metal contamination of water by mining legacy is a worldwide concern impacting millions around the world. The cost to treat acid-mine drainage globally is estimated in the tens of billions of dollars. This project will enable cultural and knowledge exchange that will facilitate the development of sensors that can be accessible to underserved communities.
In 2017, Cerrato was awarded a National Science Foundation Faculty Early Career Development (CAREER) award for his collaborative work with Native communities to measure the environmental impact that abandoned uranium mines have had in these communities and develop methods to lessen the effects.
Since 2014, Cerrato has been working with Native American communities in New Mexico, Arizona and South Dakota, and his research has found elevated concentrations of uranium, arsenic, vanadium, and other metals in water and soils from mine sites located in the proximity of the communities. Plants located close to these mine sites can also accumulate metals present in soil and water, but the level of contamination and for human health from are unknown.
The Fulbright Program is devoted to increasing mutual understanding between the people of the United States and the people of other countries. Alumni of the Fulbright program include Nobel Laureates, Pulitzer Prize winners, MacArthur Fellows and many other leaders.