Student wins national construction scholarship
September 10, 2019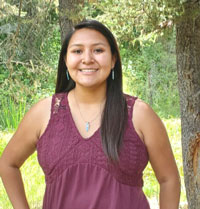 Dominica Bennett, a junior/senior undergraduate student in the CCEE department, has been selected to receive the 2019 Frances M. Keville Memorial Scholarship from the Construction Management Association of America Foundation. She was selected based upon her commitment to her education, her willingness to explore new opportunities, and her desire to make a difference in people's lives.
As a recipient, she has been invited to attend the CMAA National Conference & Trade Show, September 22-24 in Orlando, FL where she will be recognized on stage at the annual meeting and invited to participate in all conference activities.
Expected to graduate in Spring 2021, she is double majoring in Construction Engineering and Construction Management and a double minor in mathematics and management. She is a Native American in the Navajo tribe. She is Co-President of the American Indian Science and Engineering Society (AISES), Secretary of Associated General Contractors (AGC), member of the American Society of Civil Engineers (ASCE), and member of Chi Epsilon. Internship experiences include the New Mexico State Office of Engineers and Axe Engineering in Albuquerque.