UNM team wins second annual ethics debate competition at New Mexico Tech
March 30, 2019
New Mexico Tech hosted the Second Annual Ethics Debate Competition on March 30, 2019, with the team of UNM undergraduate students Trevor Amestoy (Civil Engineering) and Delanie Heileman (Computer Engineering) taking the first place prize of $1,500.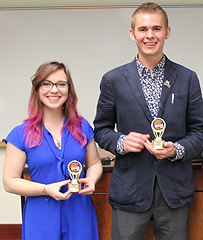 Sponsored by the NM chapter of the National Society of Professional Engineers, this year's event asked teams to explain how they would spend $100 billion to improve society, given the options of spending the funds on energy, the environment, health, society, urban infrastructure, or transportation.
In the final round, Heileman and Amestoy argued for spending the $100 billion on the environment. After the competition, Amestoy said he appreciated the competition because he learned so much about the issues being debated and the nature of an ethics debate.
Six teams took part in the competition – five from NMT and one from UNM. Event organizer Professor Ashok Ghosh said the event was a rousing success, with high quality presentations across the board. All of the participants are undergraduate students in an engineering discipline. Most of the participants had not previously competed in a debate.
The judges, including Walter Gerstle from the UNM CCEE Department, said they were impressed with the skills of the students who participated. Event judge Joe Higham, NMSPE chapter president, applauded the competitors for their lively and thoughtful debate and encouraged students to pursue professional licensure and joining NMSPE.