Sustainable water management proposal led by CCEE faculty selected as one of three UNM Grand Challenges
Sustainable water management proposal led by CCEE faculty selected as one of three UNM Grand Challenges
February 25, 2019
Last November The University of New Mexico launched the UNM Grand Challenges initiative. This was not just a call to action but a call to ideas in action – to bring our campus and state together through multiple perspectives and a common purpose.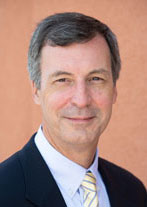 In the two months that followed, 14 proposals, representing 160 faculty and staff from over 60 departments across campus were submitted. The quality and scope of proposals received strongly reflect a collaborative approach to research and scholarship that spans not only fields of study, but also generations, cultures and perspectives.
The process included input from both external and internal review teams that was then considered by the Grand Challenges Steering Committee, which in turn made their recommendations. After reviewing the proposals, reviews and recommendations, one of the three UNM's Grand Challenge projects is: Sustainable Water Resources, Lead Convener Kerry Howe, Department of Civil, Construction and Environmental Engineering. Mark Stone and Andy Schuler from CCEE were also key members in a team that included faculty from Economics, Earth & Planetary Sciences, the Water Resources Program, Chemical & Biological Engineering, Biology, the Law School, Landscape Architecture, Community & Regional Planning, and Geography.
The team will lead a campus-wide and state-wide effort to improve water resources in NM so that by 2030, the Rio Grande Watershed will serve as an international example of a vibrant and resilient watershed that supports a thriving economy, healthy landscapes and aquatic ecosystems, and vibrant communities that celebrate the region's unique culture and heritage.
In the coming weeks the selected teams will work collaboratively with members of the Office of the Vice President for Research (OVPR) and HSC Office for Research and other campus and university offices to develop their conceptual goals. The conveners will hold workshops during the week of February 18, culminating in an Out-of-the-Box event on Feb. 22 that will be an interactive presentation of conceptual goals to the public.
Each proposal received represents a unique opportunity for UNM to serve New Mexico, and selecting only three Grand Challenges was a difficult task. The conceptual goals for the proposals that have not been chosen will be showcased on the Grand Challenges website as "Ten More Great Ideas."
More about the Grand Challenges is available at https://grandchallenges.unm.edu/three-grand-challenges/index.html