ASCE Structures Congress Tackles Health, Monitoring of Rail Infrastructure
May 22, 2017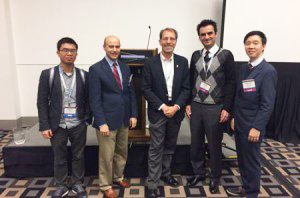 The event was organized by the American Society of Civil Engineers (ASCE) and the Structural Engineering Institute (SEI) and took place April 6-8, 2017, in Denver, CO. Speakers covered the most recent advances in sensing and remote measurements for rail infrastructure and current and future needs for the industry. This unique combination of theory and application attracted a group of more than 50 structural engineers. The attendance and interaction between speakers and attendants stressed the interest in the topics of sensing and railroad infrastructure.
During the 2016 Structures Congress in Phoenix, AZ, experts in performance of structures discussed and identified the need for a special technical session that focused on performance of railroad infrastructure. For the 2017 Congress, two technical committees of SEI identified and sponsored the session, "Methods of Monitoring Structural Performance" and "Structural Identification of Constructed Systems." Fernando Moreu, Ph.D., PE and assistant professor at the department of civil engineering at The University of New Mexico organized and chaired the special session. In above photo, Dr. Moreu is the second from the left.
Dr. Moreu opened the session presenting the paper entitled, "Real-time Displacements of Railroad Bridges Under Train Crossing Events Using Non-contact Reference-free Vibrometers."  Yongchao Yang, Ph.D., presented his research conducted at Los Alamos National Laboratory entitled, "Full-field Structural Dynamics by Video Motion Manipulations." Dr. Yang was honored as the 2017 ASCE winner of The Raymond C. Reese Research Prize, which recognizes outstanding contributions to the application of structural engineering research. The third presenter was Mustafa Gul, Ph.D., assistant professor in the department of civil and environmental engineering at the University of Alberta, presenting, "Estimation of Track Modulus Using Rolling Deflection Measurements." Henry (Hyungchul) Yoon, Ph.D., assistant professor in the department of civil and environmental engineering at Michigan Technological University presented, "Measuring Displacement of Railroad Bridges using UAVs."
The closing was, "A Railroad Perspective on Bridge Measurement and Monitoring Systems," given by Duane Otter, Ph.D., PE, principal engineer of corporate research at Transportation Technology Center, Inc. (TTCI), a wholly owned subsidiary of the Association of American Railroads. Dr. Otter acknowledged the different advances and described the interest of new technologies and applications from the perspective of the railroad owner. The speakers and attendants exchanged questions and comments and exchanged contact information to continue the technical discussions on railroad infrastructure performance after the congress.
The next Structure Congress will be held April 19-21, 2018, in Fort Worth, Texas.