2nd Annual UNM-bimSMART Summit a Big Success
October 22, 2015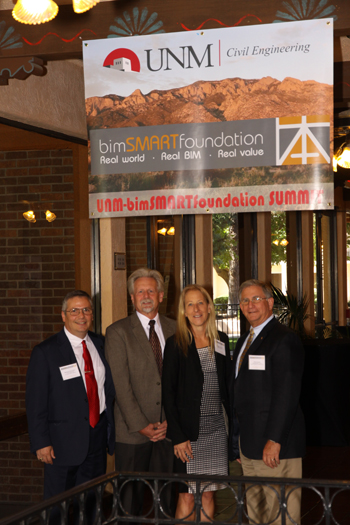 The Department of Civil Engineering co-hosted the 2nd annual UNM-bimSMART foundation Summit on Friday September 18, 2015 with a full-day of new presentations, panel discussions, and collaborative sharing of history along with the current and future vision of the use of BIM theories and practice in the Architectural, Engineering, Construction (AEC) industry and academic research.
The event had five new sponsors and a 45% increase in participation from last year's inaugural event, with over 130 attendees from industry, government, academia, civil engineering, architecture, local community colleges, technical schools, local BIM 505 user's group and high school students from the ACE Leadership Program. 
Dr. Joseph L. Cecchi, Dean of the School of Engineering, and Dr. Mahmoud Taha, Chair of Civil Engineering, conveyed the importance and goal of inspiring science and engineering students, especially underrepresented groups like women and minorities, towards innovative technology research such as Building Information Modeling (BIM), Bridge Information Modeling (BrIM), 3-D Scanning and other emerging technologies.