Lobos in Rome
July 21, 2016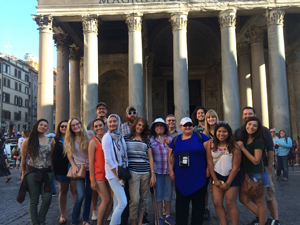 14 UNM Seniors and Graduate students from Civil Engineering, Construction Management, Architecture, and Art spent two weeks studying the history of construction, sustainability, and building restoration in Rome, Italy.  The class was led by Dr. Mark Russell with assistance from Prof. Michael Gonzalez.
The course looked at Rome from the standpoint of construction techniques applied during the Imperial Era over 2000 years ago, then progressed to Renaissance construction methods, and concluded with the impact of World War II and modern sustainability measures.  Throughout the historical overview, the restoration techniques that have been applied were reviewed.  The Romans were leaders in civil engineering and thus arches, roads, walls, plumbing, site surveying, aqueducts, and bridges were included in the course.
No trip to Rome would be complete without visiting the Colosseum, Trevi Fountain, St. Peter's Basilica, and the Roman Forum.  A side trip took the group to Pompeii to see the excavation site and witness residential construction techniques from 79 A.D.  As a university group, the students had the opportunity to go inside the Asinarian Gate, tour the Palazzo di Quirinale (Italian President's home), and see behind the scenes at the US Embassy.
As part of the Civil Engineering department's goal to become more international, this trip is planned to be duplicated again in 2018.  Next year, course are being developed to look at sustainable construction techniques in Germany.  For additional details, please contact Prof. Michael Gonzalez at magonzo@unm.edu.
See more photos here.