Dr. Zhang Selected as ASCE Outstanding Reviewer
May 21, 2015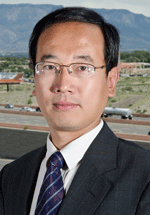 Dr. Guohui Zhang has been selected by editor of Journal of Transportation Engineering as an ASCE 2014 Outstanding Reviewer. The reputation that the Journal has achieved in no small way reflects the impressive quality of the efforts of our reviewers. We continue to receive expressions of gratitude from authors about the thoroughness and helpfulness of our review process. Your dedicated contribution and time is greatly appreciated.
In addition to the enclosed Certificate of Recognition, the list of ASCE's 2014 Outstanding
Reviewers is will be posted on the Awards section and the Journal landing page in the ASCE Library.
Congratulations on receiving this well-deserved recognition.