Why Study at UNM CCEE?
UNM offers Bachelor of Science, Master of Science, Master of Engineering, Master of Construction Management, and Ph.D. degrees in all traditional specializations within Civil Engineering as well as Construction Engineering and Construction Management. UNM is a great place to study! If you are serious about a degree in civil engineering or construction, you should be considering UNM.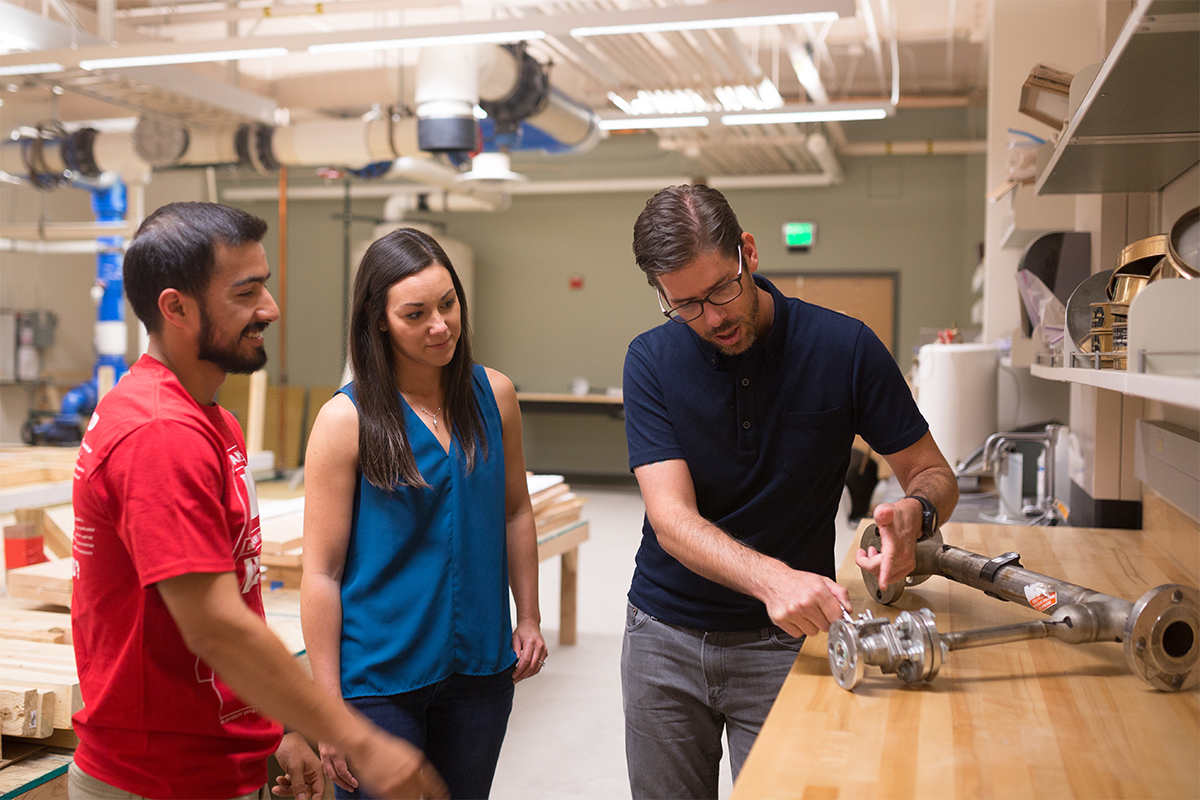 Here's why:
We're first in the state!
Top Ranked Civil Engineering Graduate Program in New Mexico (US News, 2022)
Top Ranked Environmental Engineering Graduate Program in New Mexico (US News, 2022)
Top Ranked Undergraduate Engineering Program in New Mexico (US News, 2021)
Top Ranked College in New Mexico (US News, 2021)
Top Ranked Online Master's in Construction Management program in New Mexico (Intelligent.com 2021)
Top Ranked Bachelor's in Construction Management (Value Colleges, 2020)
You want a real-world education.
All our faculty are licensed professional engineers. Many have extensive working experience outside academia, yet all have degrees from leading universities. This translates into a curriculum that has a unique balance between fundamental engineering concepts and real-world practical knowledge that no other program can offer. Almost 100 percent of UNM CCEE students taking the FE exam will pass, testimony to a solid education that few universities can claim.
You want some attention.
If you want graduate classes with 40 students, go someplace else. UNM's graduate CCEE classes often have less than 12-15 students. What's more, all classes are taught by professors or highly qualified adjuncts, not teaching assistants. Our program is student-oriented, with suburb faculty-student interaction and lots of individual attention.
You want a school with great resources.
CCEE at UNM has well-equipped structural geotechnical, hydraulic, and environmental labs as well as great student computing resources and a research site on the banks of the Rio Grande. CCEE has close relationships with other departments on campus as well as the Sandia and Los Alamos National Labs which provide great access to high tech resources, funding opportunities, and exciting research projects. As a Carnegie Doctoral/Research-Extensive University, UNM competes with the best universities in America. As a minority-serving institution, UNM often has special funding opportunities. In addition, CCEE awards more scholarship dollars to its students than any other department in the School of Engineering. UNM has been recognized as a school offering "the best value for your tuition dollar".
You want a school with national recognition.
For 2022, U.S. News ranks UNM in the top 100 of the Best Engineering Schools in the country for graduate study! The categories in which we were in the top 100 are: Best Graduate Civil Engineering Program #84, Best Graduate Environmental Engineering program #59, and Best Engineering Schools for Graduate study #84. For 2021 OnlineMasters.com ranks our online MCM program as #2  in the U.S. and the most affordable! In the 2021 U.S. News rankings, UNM is in the top 100 for Best Undergraduate Engineering Program whose highest degree is a doctorate at #90!
You want to have some fun.
After finishing a long day of studying, who wants to be surrounded by nothing but cornfields or high-rise buildings? Whether you like skiing, hiking, biking, camping, backpacking, whitewater rafting, fishing, kayaking, or golfing, you'll find it in or very near Albuquerque. Our climate has low humidity and lots of sunshine. Because Albuquerque is 5,000 feet above sea level, the temperatures are much more comfortable than you might expect. Find out more about what New Mexico has to offer.
You want to get to know Albuquerque and make a home here.
Albuquerque was just named one of the Most Affordable of the 50 major cites in the U.S. according to GOBankingRates research in April 2021. What does it cost to live comfortably here? $49,878 annually. Come to study, then stay for a lifetime!