Admission to the Undergraduate Program
Students wishing to pursue a BS in Civil Engineering, Construction Engineering, or Construction Management must be admitted to UNM and must select one of our three degree programs on their admission application.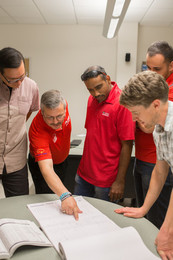 Freshman, transfer students, branch students, and readmitted students must first apply to UNM through the Office of Admissions (http://www.unm.edu/apply/).
Freshmen: http://admissions.unm.edu/future-students/freshmen/index.html
Transfer Students: http://admissions.unm.edu/future-students/transfer/index.html
Branch Transition: http://admissions.unm.edu/future-students/branch-transition.html   
Readmission: http://admissions.unm.edu/future-students/readmission-returning.html  
If BSCE, BSCONE, or BSCONM is selected on the Office of Admissions application, and the student meets the minimum UNM admission requirements, the student is admitted as a Pre-CE, Pre-CONE or Pre-CONM Engineering student.
Students in pre-major status must complete specific courses with a minimum 2.75 GPA. Once the student has successfully completed the degree admission requirements described below, the student will be admitted to the selected degree program and will no longer be in Pre-CE, Pre-CONE or Pre-CONM engineering status. At that time students will be assigned a Faculty Advisor.
If a student's GPA is close to the 2.75 minimum but did not meet it, the student can submit the application to the Director of Undergraduate Programs for review. If approved, the student will be admitted on probation.
 
Admission Requirements for the Department of Civil, Construction, and Environmental Engineering
For each of our three degree programs:
Completion of at least 26 credit hours towards the degree with at least a cumulative GPA of 2.50 in all courses presented (transfer and UNM courses)
Must be in good academic standing (cumulative UNM GPA of 2.3 or higher)
Completion of all the technical courses required in the first-year curricula with a minimum GPA of 2.75 and grades of C- or better in each course
Completion of English 1120 (or its equivalent) with a grade of C or better.
Courses Required for Admission to BS Civil Engineering
Courses Required for Admission for BS Construction Engineering
Courses Required for Admission for BS Construction Management


Attention Transfer Students
The Registrar's Office, in conjunction with UNM's academic departments, evaluates most courses for transfer, while the CCEE Department assesses transcripts to determine possible acceptance of any civil engineering courses. Prior to admission, if necessary, students may be required to seek approval for appropriate course equivalencies from the academic departments outside CCEE.


Transfer Course Equivalencies
Understanding how your course credits from other institutions will transfer to UNM is an important part of planning your UNM degree. An official course evaluation will be completed once you apply for admission to a degree program. Prior to that time, UNM's Transfer Equivalency System (TES) add link   can help you determine how your coursework from other institutions may transfer and be used as part of your UNM degree. Contact our advisor if you have questions about accessing the TES or about the equivalencies that the system has provided for you.


Questions or Advisement?
Nicole Bingham
Senior Academic Advisor for both undergraduate and graduate students
nicluna@unm.edu
505-277-6633
office: CENT 3012 (Centennial Engineering Center)
On the (Central Campus Map), we are Centennial Engineering, building number 112, section J-16 of the map.