Graduate Student Jake Mortensen Wins Another Award
November 6, 2014
For the second time this fall semester, graduate student Jacob Mortensen has won another award.   He has been awarded a New Mexico Research Grant (NMRG) by the UNM Graduate and Professional Student Association. Jake is pursuing graduate studies with Dr. González-Pinzón. His research focuses on understanding the dynamic coupling between nutrient transport and biological uptake. With this research grant, Jake will conduct experiments along the Rio Grande continuum.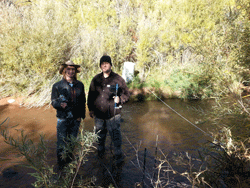 Jake (left) and PhD student Cameron Herrington (right) are conducting a tracer experiment in the Jemez River, near Jemez Springs.
You can read the news about Jake's first award here.