UNM BIM Summit 2014
October 16, 2014
UNM BIM SUMMIT 2014
The UNM Department of Civil Engineering hosted the bimSmartfoundation summit on Friday September 26, 2014 with a full-day of presentations, panel discussions, and collaborative sharing of history, current status and future vision of the use of BIM theories in the construction industry and academic integration in course work. 
The day's events started with a 7:15 am catered breakfast at the Centennial Engineering Center's Stamm Common room which drew over 90 attendees from industry, government, academia, and students from civil engineering, architecture, local community college, technical schools, and local BIM 505 user's group. Michael Gonzalez from the department of civil engineering gave an update of renovations and construction projects at UNM on a short tour from the CEC to the UNM SUB Theater around UNM's Duck-Pond for the morning's presentations.
Dr. Joe Cecchi, UNM Dean of the School of Engineering and Dr. Mahmoud Taha, Chair, Civil Engineering opened with addresses welcoming the attendees prior to the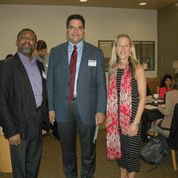 presentations as synergy was developed throughout the morning's presentations.  
Thomas Gay traveled from Boston, MA and presented a perspective from the insurance industry's BIM use and need for BIM knowledgeable engineers within the insurance industry and risk management. Tom manages worldwide CAD and GIS services, site plan documentation and engineering document management services for The Factory Mutual Insurance Company (FM Global) and is also FM Global's representative to the buildingSMART alliance. Owners Groups had brief discussions from Steve Fattor at Sandia National Laboratories and Glenn Ballard from New Mexico Public Schools Facilities Authority relating their organizations current BIM initiatives as well how they plan to move forward with BIM on projects in the future.
John Tomaszewski BIM coordinator from UNM Planning and Campus development presented on initiatives being implemented at UNM to garner more useable documentation and facility efficiencies in their operations.  He also outlined planning and renovations completed, worked on, or in transition.
After the mid-morning's catered break, Ron Balmer from Bridgers & Paxton, a local mechanical, electrical, and plumbing (MEP) engineering firm presented their company's marked improvement on return on investment (ROI) based on increase BIM use on projects in the last five years. Ron commented on his enthusiasm for future collaboration with UNM and BIM. BIM academia and educational initiative presentations were conducted by UNM's faculty Michael Gonzalez from civil engineering, Alex Webb from school of architecture, and David Ruff from CNM as each defined how their programs are integrating BIM concepts and modeling in their respective programs and course work.
The afternoon had Michael Gonzalez give a quick tour around the Fine Art department buildings and UNM's featured fountain pool back to the CEC Stamm Common room for an Italian themed catered lunch.
After lunch the BIM Summit participants walked across the hall into the CEC's Auditorium for the start of the afternoon's presentations which featured an open panel of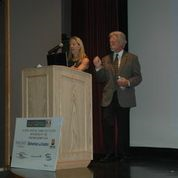 invited industry guests for questions and candid lively discussions on various topics in BIM adoption, implementation and integration moderated by bimSmartfoundation's event organizer Birgitta Foster who themed the "Hire Education" a play on Higher Education and the status of BIM locally in New Mexico and the need for BIM skills for market ready graduates. The passion and participation led the panel discussion to carry longer than anticipated which could have gone late into the evening. Refocusing the event back to presentations was easily accomplished by local engineering firm Bohannan-Huston's Nick Davis as he featured a project using BIM in designing non-building structures and seismic bracing which demonstrated the advanced use of collaborative clash detection and design challenges on massive plant infrastructure and coordination.  Running a live model gave the attendees the full scope of the advanced use of BIM in design for structural engineers.
The overall event favorite, Alix Loiesau of VDCO Tech followed by presenting the Real World, Real BIM, Real Value which gave everyone a realistic view of the current stage and future vision of BIM in the construction industry.  Alix clearly recharged the attendees with his knowledge of current and future vision and the potential of BIM globally.  Alix flew in from Fort Lauderdale, FL to present at the Summit.
After a quick afternoon break, Bryan Cowles of IMAGINiT Technologies showcased some immerging use of BIM with 3-D scanning and automating & documentation of databases.  The efficiencies of database management and workflows demonstrated IMAGINiT's advancement of BIM technologies; Bryan flew in from Salt Lake City, UT to present at UNM.
Saving the Best for Last, Birgitta Foster presented the advancement of information exchange and status of the development and implementation of COBie exchange at national and international levels.  Birgitta was the formally Assisting Director at buildingSMARTalliance (bSa) and Facilities BIM Champion for Sandia National Labs, and the current Director of Facilities Integration at VDCO Tech; she specializes in Building Information Modeling (BIM)/Facilities Management (FM) integration strategies. Birgitta is a leading authority, writer, and presenter on BIM for Owners, and continues to examine how technologies can improve Operations and Maintenance, Space Planning, and Asset Management.  While serving as bSa's Assisting Director she supported NBIMS-US efforts while overseeing the development of the Introduction to Construction Operations Building information exchange (COBie) course.  Birgitta continues to represent bSa-US as the IUG Secretary for buildingSMART International and provides education on COBie nationally and internationally.
The UNM BIM Summit event was deemed an outstanding success by the attendees at the end of the day, who expressed the desire to collaborate and share ideas almost immediately before the overwhelming response to hold and attend the event next year.