Professor Tarefder Receives International Honor
October 1, 2014
Professor Tarefder Receives International Honor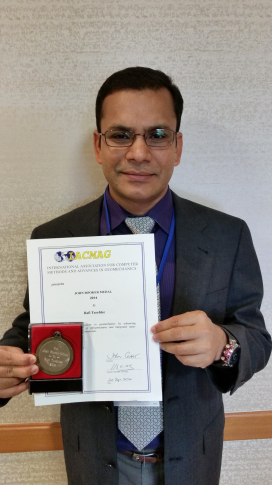 Rafi Tarefder, professor of civil engineering, received the "John Booker Excellence Medal," a prestigious international award presented by the International Association for Computer Methods and Advances in Geomechanics (IACMAG). This award is given in every three to four year cycle to recognize individuals worldwide who have made significant contributions in research in geomechanics for nonlinear and time-dependent problems including analytical and computational methods, constitutive modeling, consolidation and contaminant transport. This time, the award was presented to Dr. Tarefder in Kyoto, Japan at the 14th IACMAG conference attended by more than 500 participants from 40 countries around the world.
Professor Tarefder was selected for the John Booker Excellent Medal for his significant contributions to the field of geomechanics through advancing mechanics-based design of infrastructures and developing integrated nano-molecular models of pavement materials leading to fundamental understanding and insight into engineering and physical phenomena.
Dr. Tarefder's research work in geo-pavement engineering problems including design, materials, and sustainability has resulted in over 200 refereed publications. Dr. Tarefder has secured external funding more than $8.9M as a PI/Co-PI and participated in contracts totaling over $16.0 million at the University of New Mexico. He is an Associate Director of two federally funded transportation centers: Southern Plain Transportation Center (SPTC), and Safety and Operations of Large-Area Rural/Urban Intermodal Systems (SOLARIS).
Dr. Tarefder serves in several national and international committees. He is the Editor-in-Chief of Journal of Advances in Civil and Environmental Engineering, Associate Editor of the ASCE Journal of Materials in Civil Engineering, Lead Editor of IACMAG Newsletter. He is a co-chair of New Mexico's annual Paving and Transportation conference, and a registered Professional Engineer (P.E.) in the state of New Mexico and Idaho. In the past, Dr. Tarefder has received several awards for his scholarship including the prestigious NSF CAREER award, Junior Faculty Research Excellence award, Stamm Endowed Lectureship, and Regents' Lecturer award.