Dr. Tang-Tat Percy Ng Appointed Chutian Scholar
October 30, 2014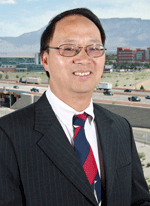 Dr. Tang Tat Percy Ng, Professor of Civil Engineering, has been selected as the Chutian Scholar Chair Professor at Wuhan University, China.
Provided by the Hubei Province, the appointment to this professorship is from 2015 to 2020
Dr. Percy will spend summers in the next five years at Wuhan. Together with the colleagues at Wuhan University, he will develop numerical programs to investigate the interaction of fluid and granular materials.